Estudio S2A
A modern portfolio for an architecture firm with a real-estate agency.
CRM project management design system real state
Challenge
Communicate extreme attention to detail and world-class knowhow for an architecture firm.
Outcome
Reduced back-and-forth with clients during project development. Achieved web presence to match the studio's quality.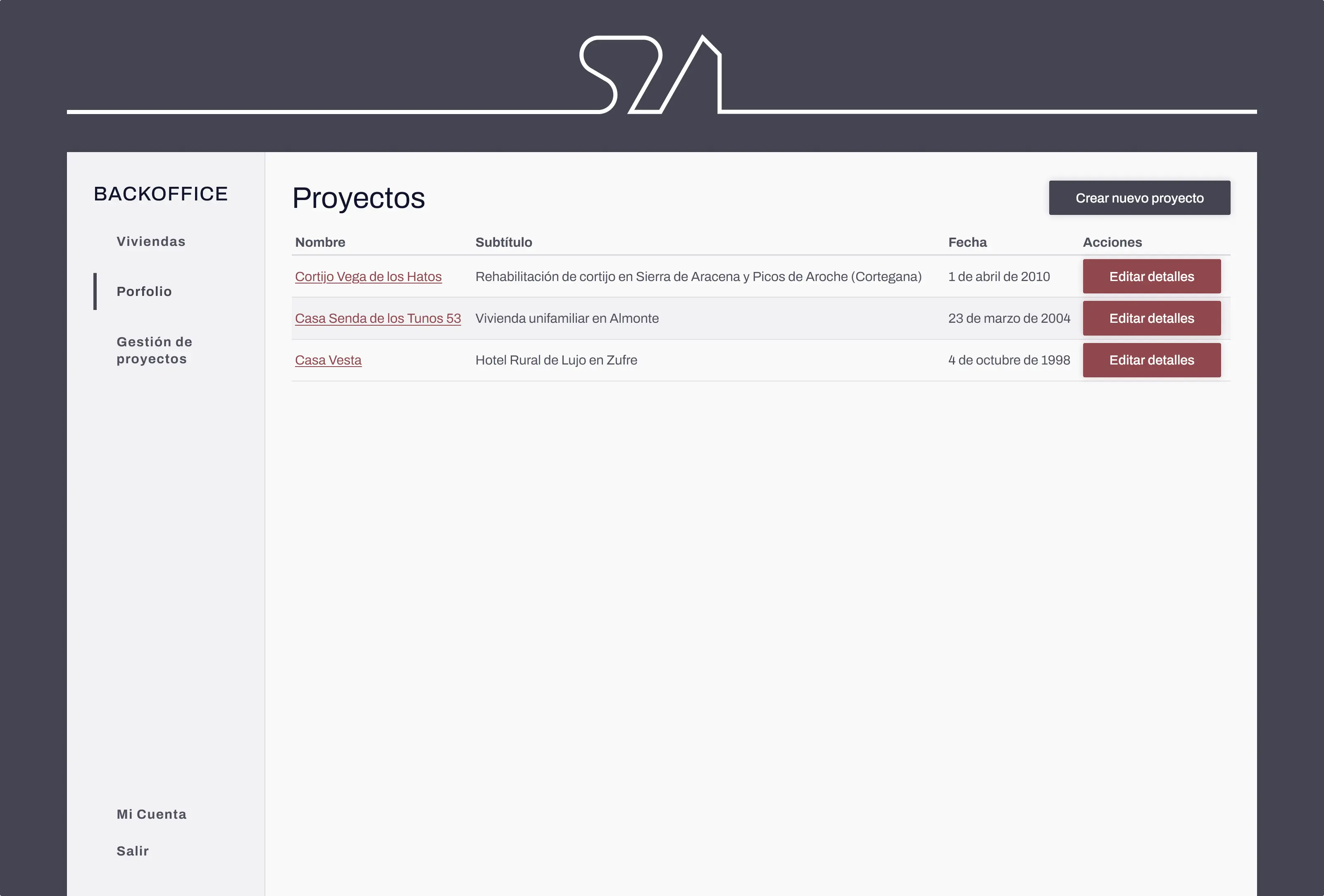 Who is Estudio S2A?
Estudio S2A is an architecture firm based in Almonte, Huelva, in southern Spain.
They design building for individuals and corporations alike and always strike the perfect balance between aesthetics and practicality.
Challenge
Estudio S2A wanted to achieve a more professional-looking web presence that would enable them to reach customers beyond the market they currently operate in.
They were trying to convey their professional values of aesthetics and practicality through a website.
Also, collaborating with clients during all the different phases of a project was involving too much back and forth between phone calls, emails and meetings. They needed an effective way to update clients on the status of their projects.
Solution
We focused on capturing Estudio S2A's brand identity into a design system that would serve as the basis for the rest of the project.
We refreshed their logo and crafted a landing page to get their clients excited about their dream projects.
Design system
Updated look to match modern accessibility and user experience standards while communicating the aesthetic and practical nature of Estudio S2A.
The new website included a portfolio section to showcase their past work as well as a place for them to list real-estate opportunities on behalf of some of their customers.
Landing page
Implemented the design system on a landing page plus two pages to list projects and real-estate offers.
Finally, we built an extremely straightforward way for them to post updates to their clients in the form of a timeline, where they can attach photos, videos, floor plans and more.
Customer dashboard
A timeline interface to showcase project progress to clients from idea inception to key delivery.
Outcome
Estudio S2A has a world-class online presence thanks to an optimized landing page that uses a design system that matches their design philosophy.
Communication with customers has improved dramatically as they now have a place to turn to when looking for a floor plan or render of their next dream home.
Estudio S2A has positioned itself as a leading innovator in architecture in Southern Spain.