GHEP-ISFG
Creating a unified platform to simplify operations.
content management surveys data collection event registration user payments
Opportunity
Existing system was beyond end of life, which invited revisiting how technology could improve internal processes.
Outcome
Faster and cheaper execution of recurring internal tasks, increased member and employee satisfaction.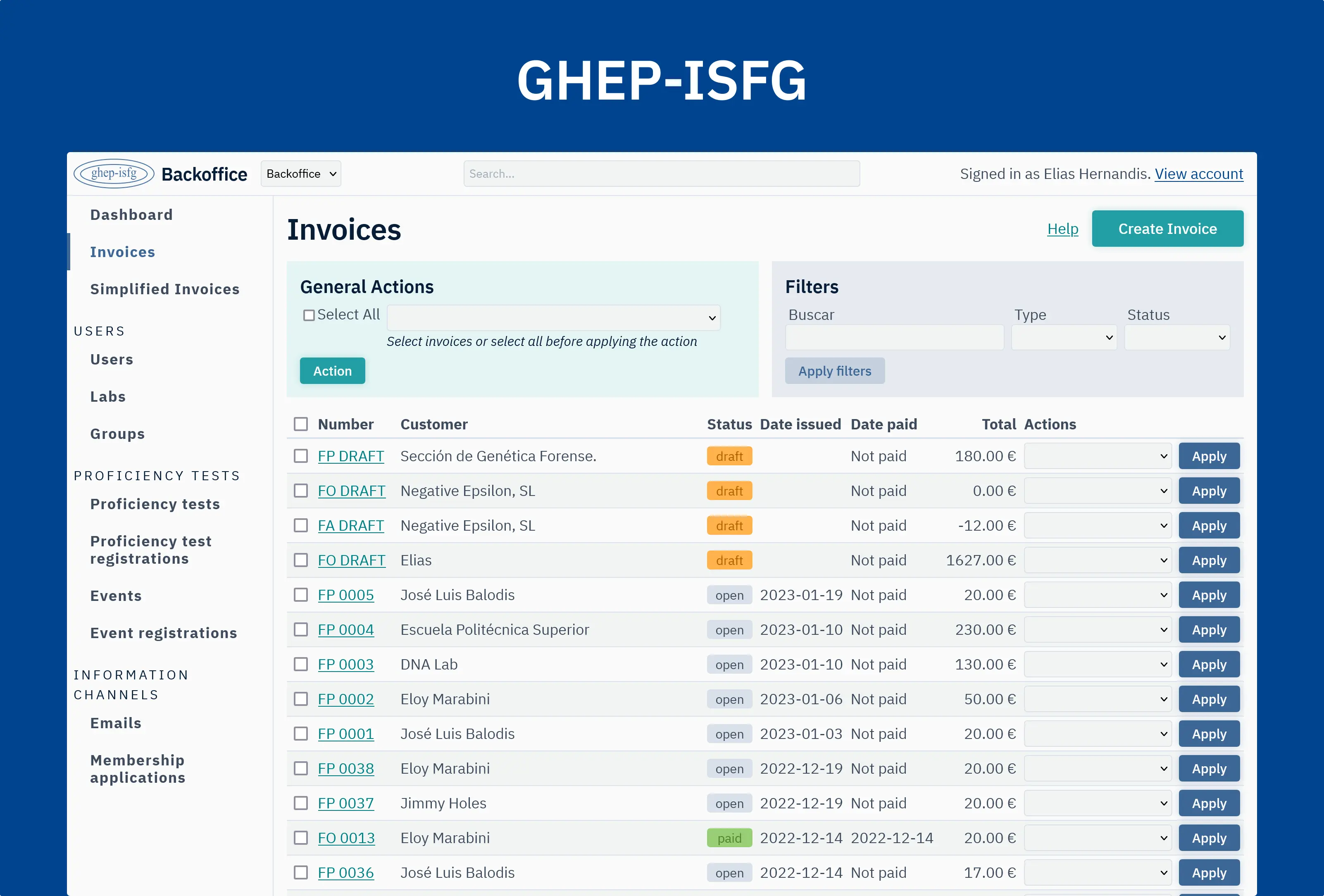 Who is GHEP-ISFG?
The Spanish and Portuguese-Speaking Working Group of the ISFG is an non-profit dedicated to spreading and developing scientific knowledge in the field of Forensic Genetics.
They have members in more than a dozen countries and run meetings and workshops open to researchers across the world. They also run a yearly proficiency test which involves gathering results consisting of thousands of data points from hundreds of participants worldwide.
Challenge
In late 2021, the existing system which the GHEP-ISFG had been using was approaching end of life and needed a major update that set up the GHEP-ISFG for success.
The requirements that needed to be fulfilled were well understood but this moment was seen as an opportunity to modernize not just the looks of the system, but also to automate and reduce friction for repetitive administrative tasks that the GHEP-ISFG runs on a daily basis. Collecting payments for membership fees internationally or creating forms for event registrations were some of the tasks that caused the most problems.
As part of our initial conversations with the GHEP-ISFG we also identified other areas that could benefit from improvement, such as invoice generation, how content was structured on the main website and better permission management for members which would reduce the administrative burden on the executive board.
Solution
Developed a custom management system, integrated content, optimized for speed, accessibility and search engine ranking.
Negative Epsilon suggested building a tailor-made management system which would specifically address the registration and membership constraints that would have presented a major integration problem with an existing tool. We also took the opportunity to integrate content management into this customized backoffice for a seamless transition from operations to publishing.
Design system
Existing system was beyond end of life, which invited revisiting how technology could improve internal processes.
Content Management System
Faster and cheaper execution of recurring internal tasks, increased member and employee satisfaction.
Payments were handled using Stripe for credit card processing, however, we built a custom invoicing system that enabled the GHEP-ISFG to comply with local regulations down to the last detail. It also made it much easier to generate electronic invoices per the requirements of the different public institutions which are repeat customers of the GHEP-ISFG.
Invoicing
Fully-compliant with Spanish tax regulations, including simplified and amending invoices, and electronic invoices for government entities using the FacturaE format.
Event registrations
Registration and ticket sales for single and multi day events with support for member discounts.
Finally, we focused heavily on accessibility, site speed and SEO optimization. We took a unified approach to completing these goals which resulted in a clean-looking website that loads in less than 0.5 seconds for most users across the globe, consistently ranks as the first result on search engines and can be navigated entirely with the keyboard.
Newsletter and marketing emails
GDPR-compliant marketing email platform with delivery monitoring to keep members engaged with the activities and workshops organized by the group.
Test result data collection
Accepting submissions for multi-page, multi-level complex forms with support for pasting from spreadsheet software and file uploads.
Outcome
Members were substantially happier with the updated look of the website, as well as with the increased autonomy that enabled them to manage their memberships and register for events more easily.
The executive board of the GHEP-ISFG was also pleased with the updated management system. Content can now be more easily updated while maintaining a unified brand identity. Administrative tasks such as invoice generation, registration management or sending newsletters are now much easier to perform thanks to a faster, more responsive backoffice interface.
After using the new platform in production for over a year, we were approached again by the GHEP-ISFG to make the first batch of new features and improvements built on top of the existing system. Adding support for student memberships or multi-tier pricing for events was a breeze thanks to the sound codebase that resulted from the first iteration of this project.